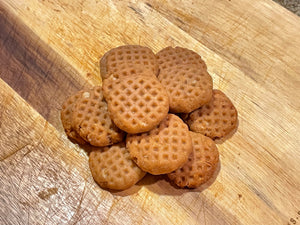 If your fur baby loves peanut butter then this treat will delight!  These small peanut butter cookies are so flavorful and fill our bakery kitchen with the amazing smell of warm peanut butter all day. Made with oats, peanut butter, free-range eggs, and local honey along with applesauce and Vanilla that is flavorful and full of nutrients.  These treats come in a 6oz bag. 
6 oz bags includes about 14 treats.
We also sell this treat in 5.25 lb. If you purchase a 5.25 lb bag, we will add an extra 6 oz bag of treats for FREE. The 5.25 lb is individually packaged in 6 oz bags for easy freezing and giveaway. Great for parties, holidays, and making sure your furry best friend is never without their favorite treat.
The 5.25 lb is packaged in our 6.0 oz bags for easy freezing and giveaway. 
Ingredients
Brown rice flour, Rolled oats, Peanut Butter(unsalted), Applesauce (Unsalted), free-range eggs, Water, Vanilla